The 39 Steps Tickets
Finden Sie die The 39 Steps-Tickets, die Sie suchen, auf Sport1 viagogo Ticketbörse, der weltweit größten Ticketbörse. Wählen Sie eine Veranstaltung aus, um die dafür vorhandene Kartenauswahl anzusehen oder schauen Sie sich den Kalender an, um die Termine festzustellen, an denen noch Tickets verfügbar sind. Sie haben auch die Möglichkeit, Ihre ungenutzten The 39 Steps-Tickets auf Sport1 viagogo Ticketbörse anzubieten. Der Listeneintrag ist übrigens kostenlos. Alle The 39 Steps Karten unterliegen der Sport1 viagogo Ticketbörse-Ticketgarantie!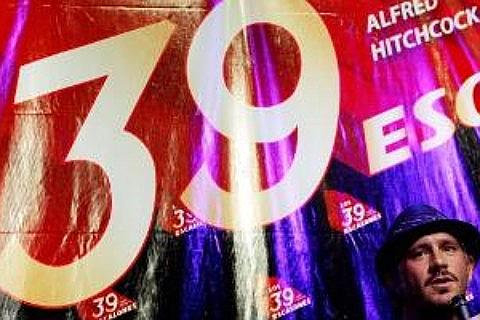 The 39 Steps
Die Ticketbörse
Garantiert

Alle Tickets werden von der viagogo-Garantie abgedeckt

Ihr Geld ist sicher

Wir bezahlen den Verkäufer nicht bevor Sie an der Veranstaltung teilgenommen haben

Sichere Lieferung

Lieferung per E-Ticket oder Kurier
Wir sind offizieller Partner
Veranstaltungen nach Datum
<<

Mai 2013

>>

Mo

Di

Mi

Do

Fr

Sa

So
The 39 Steps Tickets
Kaufen oder verkaufen Sie Ihre The 39 Steps-Theaterkarten bei Sport1 viagogo Ticketbörse. Sie können sich auch für unseren Newsletter anmelden, um über den aktuellen The 39 Steps-Spielpan informiert zu werden. Wenn Sie Fragen zu Sport1 viagogo Ticketbörse haben, besuchen Sie unsere Häufig gestellte Fragen-Seite. Sollten Sie Hilfe beim Kauf Ihrer The 39 Steps Tickets benötigen, können Sie unsere Bestell-Hotline unter + 44(0)20 3137 6084 anrufen.
Sport1 viagogo Ticketbörse ist Ihre Online-Ticketbörse für Konzerttickets, Sporttickets und Kunst- & Theatertickets.
Ticket Alert
Melden Sie sich hier für Angebote und Neuigkeiten zu The 39 Steps an
Ihre E-Mail-Adresse ist fehlerhaft